"With everything that's taking place in the world, someone has to take a stand. The world can continue criticize our minority males instead of creating a solution, but I won't be apart of that group. SirGENTZ will allow me to be a solution, and also to make a difference. I'm excited about assisting with the vision and touching lives! Join the movement!"
"I decided to be a part of SirGENTZ because I have a 10 year old and there are not many programs geared towards boys. I believe this is a program that a lot of people can benefit from and It's in line with my need to make a difference in someone else life."
"Everyone has ideas & plans on how to make a difference in today's society, but rarely put any action toward making that difference. Sir Gentz gave me the platform to add action to my ideas and plans! Being able to help minority males achieve their goals with no limitations is rewarding all by itself! Cheers to making a difference & being the difference! Join the movement!"
Powered by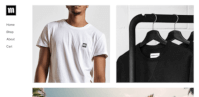 Create your own unique website with customizable templates.